BARCLAY JAMES HARVEST
"Barclay James Harvest" (Limited 3CD/1DVD Box Set incl. hi-res 5.1 mix)
Description
[CD1]
Barclay James Harvest
The Original Stereo Mix Re-Mastered

1. Taking Some Time On
2. Mother Dear
3. The Sun Will Never Shine
4. When The World Was Woken
5. Good Love Child
6. The Iron Maiden
7. Dark Now My Sky

Bonus Tracks:

8. Early Morning
9. Mr. Sunshine
(A & B-Sides Of Single Released April 1968)

10. Pools Of Blue
11. I Can't Go On Without You
12. Eden Unobtainable
(Recorded At Advision Studios, London August 1968)

13. Pools Of Blue
(Recorded At Chappell Studios, London August 1968 // Mixed At Abbey Road Studios, London September 1968)

14. Brother Thrush
15. Poor Wages
(A & B-Sides Of Single Released June 1969)

16. Taking Some Time On (Single Version)
(A-Side Of Single Released August 1970)

[CD2]
Barclay James Harvest
The New Stereo Mix

1. Taking Some Time On
2. Mother Dear
3. The Sun Will Never Shine
4. When The World Was Woken
5. Good Love Child
6. The Iron Maiden
7. Dark Now My Sky

Additional Tracks:

8. Pools Of Blue (New Stereo Mix)
(Recorded At Chappell Studios, London 16th August 1968)

9. Brother Thrush (New Stereo Mix)
10. Poor Wages (New Stereo Mix)
(Recorded At EMI Studios, Abbey Road, London 11th March 1969)

[CD3]
BBC Broadcasts And More…

1. Mr. Sunshine
(Mr. Sunshine Film Version Previously Unreleased On CD)

2. Early Morning
(As Broadcast On Bbc Radio One "Top Gear" 14th April 1968 // Previously Unreleased)

3. So Tomorrow
4. Eden Unobtainable
(BBC Radio One Top Gear Session Recorded 23rd April 1968 // First Broadcast 5th May 1968)

5. Night
6. Pools Of Blue
7. Need You Oh So Bad
8. Small Time Town
9. Dark Now My Sky
(BBC Radio One Top Gear Session Recorded 30th July 1968
First Broadcast 4th August 1968)

10. The Sun Will Never Shine
(Woolly Wolstenholme Original Solo Demo Recorded At Preston House, Saddleworth In 1969 // Previously Unreleased)

11. Dark Now My Sky
(BBC Radio One John Peel Sunday Concert Recorded At The BBC Paris Theatre, Lower Regent Street, London 11th February 1971 // First Broadcast 21st February 1971)

[DVD]
Barclay James Harvest
The New 5.1 Surround Sound Mix, New 96 Khz / 24-Bit Stereo Mix And 96 Khz / 24-Bit Original Stereo Mix

1. Taking Some Time On
2. Mother Dear
3. The Sun Will Never Shine
4. When The World Was Woken
5. Good Love Child
6. The Iron Maiden
7. Dark Now My Sky

Additional Tracks:

8. Pools Of Blue
(Recorded At Chappell Studios, London 16th August 1968)

9. Brother Thrush
10. Poor Wages
(Recorded At EMI Studios, Abbey Road, London 11th March 1969)

Visual Bonus Material:

Mr. Sunshine 1968 Short Film Featuring:
- Early Morning
- Washing The Dishes
- Mr. Sunshine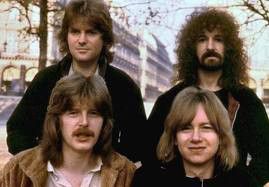 En savoir plus
A new re-mastered four disc deluxe expanded boxed set limited edition (comprising 3 CDs and a DVD) of the legendary self-titled debut album by BARCLAY JAMES HARVEST.
In April 1968 Barclay James Harvest released their first single, Early Morning, on EMI's Parlophone label and became the first signing to EMI's progressive label Harvest Records (named after them) the following year. Their self-titled debut album was released in June 1970, and saw BJH successfully fuse an orchestra with rock to create a unique, sometimes pastoral, form of symphonic progressive rock. Produced by Norman Smith (also famed for his work with Pink Floyd and the Pretty Things), Barclay James Harvest was dominated by the twelve-minute epic Dark Now My Sky and also featured such wonderful material as The Iron Maiden, Mother Dear, When the World Was Woken and the fine rock tracks Taking Some Time On and Good Love Child. The album established Barclay James Harvest as one of Britain's most unique groups and paved the way for a remarkable career and a catalogue of music that continues to endure.
This expanded reissue has been newly re-mastered from the original master tapes and features an additional 33 bonus tracks drawn from new 5.1 surround sound & stereo mixes from the original multi-track master tapes, BBC radio sessions from 1968 and 1971, the singles Early Morning, Brother Thrush & Taking Some Time On, a rare Woolly Wolstenholme solo demo from 1969 of The Sun Will Never Shine, along with the 1968 short film Mr. Sunshine.
The set also includes a lavishly illustrated 68 page book with previously unseen photographs and an essay by BJH specialists Keith & Monika Domone. Additionally, the set includes a facsimile of the 1970 Barclay James Harvest orchestral tour programme and two facsimile press releases from 1968 and 1969, postcards and a replica 1968 record shop poster for the Early Morning single.
This special edition of Barclay James Harvest is a fitting tribute to a fine band.
Fiche technique
| | |
| --- | --- |
| Genre : | Progressive rock |
| Support : | CD, DVD, Livres |
| Décennie : | 60's ROCK |
Discographie
Vous êtes un fan absolu de BARCLAY JAMES HARVEST ? Vérifiez si vous possédez tous les albums.
Vous souhaitez simplement en découvrir un peu plus, la liste ci-dessous vous y aidera.
Les cookies assurent le bon fonctionnement de nos services. En utilisant ces derniers, vous acceptez l'utilisation des cookies.
OK